CHAMPION CHATTER – April 2022 edition
CHAMPION BIRTHDAYS 🎉
Birthday well wishes for this month are extended to:-
Judy @ Lot 1
Fred @ Lot 13
Fay @ Lot 17
Valerie @ Lot 30
Christine @ Lot 48
Margaret @ Lot 56
Greg @ Lot 78
To our residents celebrating an April birthday we celebrate with you and say best wishes for a lovely day!!
FUNNIES OF THE MONTH
HEAT PACKS FOR SALE
Our very clever resident Ann from Lot 43 has been busy preparing for the cooler months and we are delighted to announce these homemade heat packs are available for purchase by contacting Ann directly.
Ease your aches and pains – perfect for winter! These heat packs are filled with lupins which hold heat twice as long as wheat.
Please contact Ann on 0412 711 624
26 Lifestyle Lane, Champion Lakes. Thank you
WELCOME TO THE CHAMPION COMMUNITY
This month we welcomed new residents Hilda @ Lot 18 as well as Alan & Jenny Platt @ Lot 22 in addition to Myrna Turner @ Lot 51 to their forever homes in our Village.
Our beloved interview author Sheila is away on holiday, so we have been unable to undertake our normal editorials on our new residents. We, therefore, thought it fitting to introduce Sheila Parker to you all, and for those that don't know, Sheila is a very active and adventurous 80 year young.
With travel restrictions easing, Sheila is currently traveling to various destinations with Cascade Tours including:
Northam, Wave Rock, Ravensthorpe, Pingrup, Katanning, Albany, Bremer Bay
with visits to Silos, Museums, and much more.
Amongst other things Sheila loves socialising, travel, wildflowers and gardening. Sheila has thoughtfully organised emergency response cards for all our village residents and has always offered a helping hand when needed, we cant thank her enough for all that she does. These special people like Sheila we proudly call our village residents.
THE "SCENE" AROUND AT CHAMPION LAKES
We have been fortunate to capture some fabulous activities being undertaken by our residents across the village site in the last month and thought we would share their activities as they were captured.
The lovely Louise drove the village bus to go "lunching with the ladies" at Guildford Hotel followed by shopping at Midland.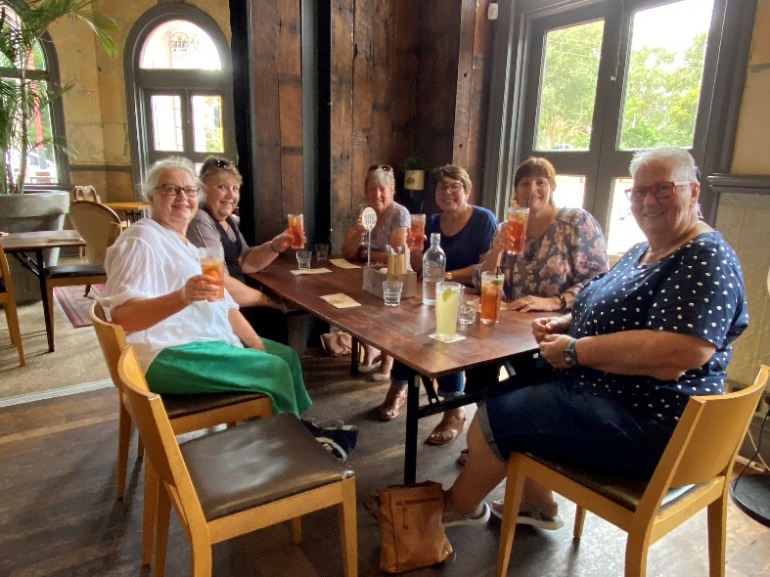 Lorna and Dianne held a meditation session on Sunday for everyone which was very enjoyed by all those in attendance.
An interesting insight into the practice of meditation is that it helps keep our minds relaxed and engaged, which enables us to age with grace. By incorporating mindfulness into a senior's mind, body and soul, meditation can offer these surprising health benefits: Reduces and controls blood pressure. Regulates cortisol levels by improving your immune system functioning.
Milestone birthdays for two residents Ron and John were celebrated this month as they both enjoyed the joy of turning 80 surrounded by their neighbors and friends over cake and beverages in the Clubhouse. Congratulation gentlemen!!!
Thank you to Rhonda for supplying these great shots of the residents who came together to enjoy the derby of West Coast v Dockers on the big screen in our Lodge last weekend.
A sausage sizzle along with Dawn's famous bruschetta was thoroughly enjoyed at the halftime break.
GO, DOCKERS!!!!!!
CONSTRUCTION/ SALES UPDATE
Despite all our display homes now being sold, we still have lots to view in the village.
New homes are starting every week from concrete pads, to frames going up, insulation, and cabinets installation. It's great to see all the custom ideas that future residents have made to our standard designs to make them unique.
Please contact Leah on 93903909 to book a tour of the village and discuss options to design a home to cater to your needs.
Please note: the Sales office will be closed over the Easter Break from Wednesday the 13/4 to Monday the 18/4.
EASTER PUZZLE
SAVE THE DATE
Saturday 14th May – Village Event
Time: Evening (TBA)
Fees: $10.00 per person
Thursday 26th May – Frankie Valli and the Four Seasons Astor Theatre Bus Trip/ Event
Time: Evening
Fees: $75.00 per ticket
(Please note a group booking is being placed on the 11th March 2022 to secure seats for this event so please let Rhonda know by this date if you are wishing to attend).
"Where the smiles are genuine and the coffee's always on"
Best Wishes from Keith, Jane, Leah, Fiona & Families.