CHAMPION BIRTHDAYS
Birthday well wishes for this month are extended to:-
Lesley @ Lot 2
Margaritta @ Lot 4
Sue @ Lot 12
Chris @ Lot 14
Anne @ Lot 16
Jennifer @ Lot 22
Tom @ Lot 25
Chris @ Lot 28
Dawn @ Lot 33
Frank @ Lot 59
To our residents celebrating a May birthday, we celebrate with you and say best wishes for a lovely day enjoyed with loved ones and family members!
---
WELCOME TO THE CHAMPION COMMUNITY
We'd like to introduce two new members that have chosen Champion Lifestyle Village as their forever home.
Lot 87 – Les & Eve Moore
Both from the naval town of Chatham in Kent, they have been married for 62 years, and have one daughter Julie, 3 grandchildren and 3 great-grandsons.
With Les having the trade of a butcher they were able to take advantage of the Australian "Ten Pound Pom" scheme and emigrated to Perth in 1973.
Living in Parkwood, it was the days of Tip Top Meats, Charlie Carters, and he became Manager of Freecorns in Riverton. After a couple of years, he wanted better and eventually aspired to be a sales representative for Kraft Foods, this led to attending a 4-year TAFE course in Sales and Marketing which paid off with him getting his dream job as Sales Manager for Master Butchers now MBL in Victoria Park, distributors of machinery and products to the meat industry and a few years later moving into the Bakery and Food Service industries retiring as General Manager in 2004.
Eve has always been in the fashion and cosmetics industries managing at the Body Shop in Garden City, Booragoon and fashion boutiques, Katies etc South of the River.
They do most things together and their favourite pastime is ballroom dancing, attaining gold medal standard in the 1980s. Work and car accidents got in the way until they went back to dancing 8 short years ago. Their other joy is cruising, having covered most of the world apart from Russia and South America. When Les was working, he often had to travel East, and they were able to combine this with seeing most of the East Coast from South Australia to Queensland over those years.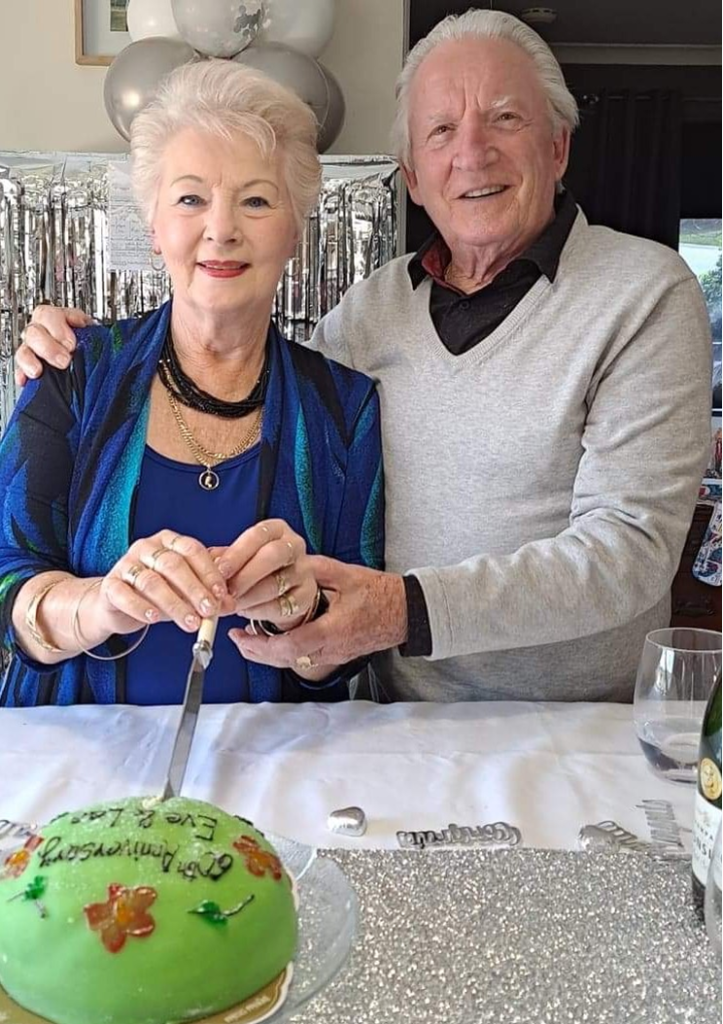 Dogs are also a big part of their lives, from breeding and showing Red Setters and German Shepherds in the 1980s while in the kennel area at Canning Vale. Their love is Bichon Friese, having 6 girls since 1993. Their current Bichon, Bella is 9 months old and is settling in well to village life alongside doting mum and dad.
Retirement has given them the chance to pursuit the things they like to do. Les apart from spending 8 years as a home handyman is into model boat building taking 15 months to build the HMS Victory (launched at Chatham their hometown in 1765), his current project is the HMS Bounty. Eve only stopped working 4 years ago and has always been a dressmaker and still undertakes alteration projects on an ad hoc basis.
Apart from living in Canning Vale they spent over 10 years on the Canals in South Yunderup, which they admit is their favourite place although their recent decision to build here at Champion Lakes is the best thing, they could do at their age with security being a major priority for them both. In their words, "no basketball nets and unnecessary noise, and so far things have been great with meeting so many like-minded people".
---
SAVE THE DATE
8th June (Thursday) – Annual Budget Meeting
16th June (Friday) – A Meet And Greet with Bicton Travel
29th June (Thursday) – Morning Tea with Waves Hearing Solution
26th August (Saturday) – Mid-year function
About Waves Hearing Solution
We are an independent family-owned and operated hearing service. We have been serving the Perth metropolitan and regional areas for almost 6 years. We look forward to meeting residents over an informal morning tea on Thursday 29th June. We will be available to undertake onsite FREE hearing tests if residents are so inclined. 
About Bicton Travel
Do you have your next holiday in mind? Perhaps a destination or cruise you're looking at booking?
Are you eager to embark on your dream holiday but feel overwhelmed by the planning process? Book with an experienced travel expert who can provide advice, peace of mind plus find the best deals out there.
Lee Van Dongen from Bicton Travel will be onsite at Champion Lakes Lifestyle Village taking Travel Appointments on Wednesday 14 June. Lee has been in the travel industry since 2009 and is a cruise expert, having travelled with many of the major cruise lines. He has visited many destinations, including the UK, Europe, Asia, Australia and the South Pacific, South America, and parts of the USA.
Book your appointment time, come say hello, and he would love to chat more about your upcoming travel plans, give you expert advice and provide a quote on your desired holiday. 
Friday 16th June 2023 Time: 9am – 4pm Venue: The Lodge  
Appointments are essential. Please email lee@bictontravel.com.au, phone 9339 0277 or book online at https://bictontravel.com.au/appointments/. 
---
ANNUAL BUDGET MEETING
Scheduled for Thursday the 8th of June at 10am. A formal notice and agenda will be forwarded to all residents in the coming week.
This meeting is held by the village administering body to present the budget for the 23/24 financial year.
Having consulted with the resident committee over the last month your management team looks forward to seeing you all on the 8th June for the presentation.
---
THE SCENE AROUND CHAMPION LAKES
Tom's daughter surprised him and our street dressed as Easter bunnies and handed out eggs on Easter Sunday.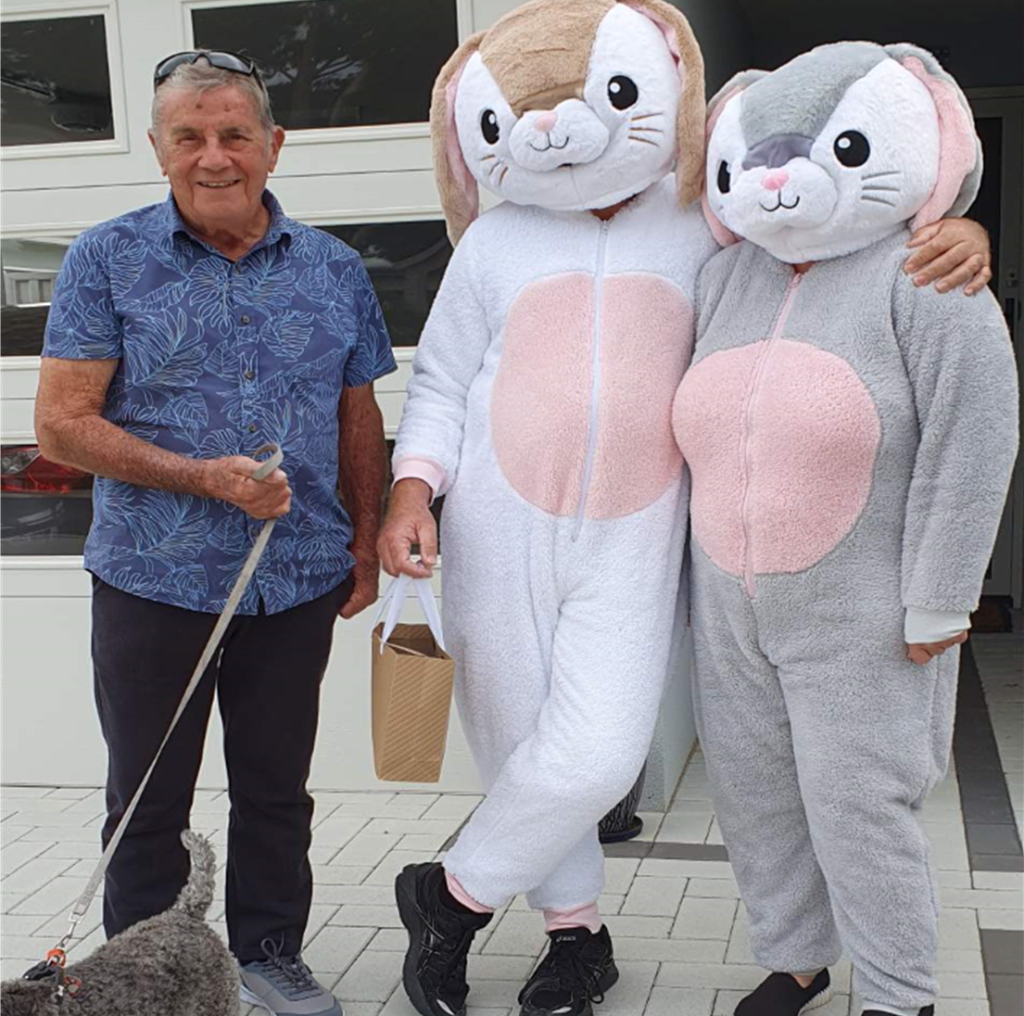 and Mavis and David Steele celebrated their 65th wedding anniversary on the 24th of December 2022 and received a lovely letter in the mail from King Charles and Queen Camilla (Before the recent coronation event).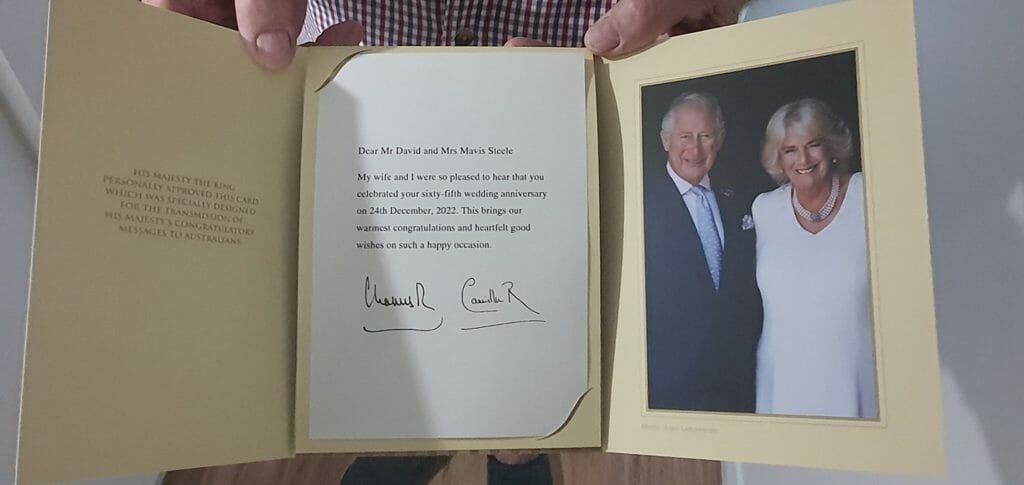 Mothers Day 2023
About 70 people turned up and it was a really nice day. Lots of positive comments from residents children and family about the village and the function, Well done to the Resident Committee for putting on such an extravaganza!!!
---
ANZAC BREAKFAST FUNDRAISING UPDATE
At our recent ANZAC Day BBQ Breakfast, our village was able to raise $525 which we donated to the RSL. We recently received a thankyou letter from their CEO, Phil Winter.
Dear Residents of Champion Lakes Lifestyle Village,

Thank you for your recent donation to the RSLA Foundation. The RSL values every
contribution received, which contributes to fulfilling the RSL objectives of supporting
veterans and their families.

We note the donations from Village residents were raised at the Anzac Day breakfast, held
after the Dawn Service, and we trust the day was enjoyable for all.

The RSLA Foundation is used to support activities and programs that directly benefits
returned and services personnel and their families. More recently, the RSLA Foundation has
provided support in the form of grants, for veterans affected by ill health, misfortune or to
support welfare, commemorations and RSL Active. RSLWA also has a range of State
programs you no doubt are aware of.

We sincerely thank you for your kind contribution and wish all the residents good health.
---
15 Bay Court Champion Lakes Property Photos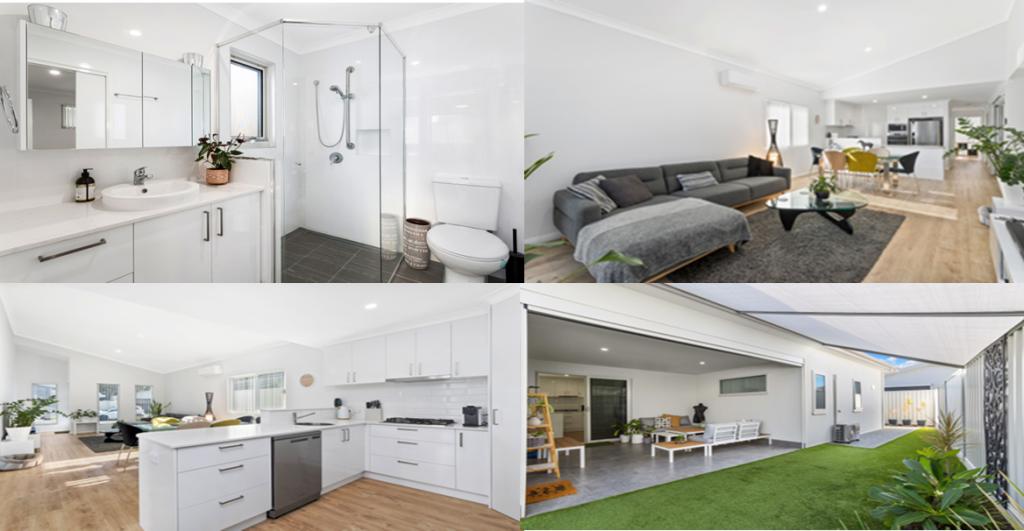 Check out the internal layout of just one of our villa's at Champion Lifestyle!
To make a viewing time, please call Leah Butler on 0417964608
---
"Where the smiles are genuine and the coffee's always on"