CHAMPION CHATTER – February 2022 edition
CHAMPION BIRTHDAYS 🎉
Birthday well wishes for this month are extended to:-
Eve @ Lot 15
Rosalie @ Lot 25
Anne @ Lot 38
Elaine @ Lot 49
Barry @ Lot 54
Lorna @ Lot 59
Ron @ Lot 60
Jackie @ Lot 62
To our residents celebrating a February birthday we celebrate with you and say best wishes for a lovely day!!
FUNNIES OF THE MONTH
"What is your handicap these days?" one golfer asked another. "I'm a scratch golfer I write down all my good scores and scratch out all my bad ones."
WELCOME TO THE CHAMPION COMMUNITY
This month we welcome new residents Peter & Susan @ Lot 27 along with Peter & Kay @ Lot 45 to their forever homes in our Village. Thanks again to Sheila for undertaking the meet and greet to allow us all at the Village to be introduced to these fabulous new residents.
Peter & Susan Lot 27
Welcome to Champion Lakes Peter and Susan Peerce who are currently transiently located at Lot 3 with intent to be in their new home at Lot 27 at 15 Delight Way in the next few weeks.
Peter and Susan were both originally from Geraldton where they met and married 45 years ago. They built a house in Geraldton where Susan was a Nurse and Peter worked for the Department of Corrections as a Prison Officer.
They lived in Geraldton for many years and that is where their two sons Chris and Kingsley attended Primary School. Susan worked on the night shift and Peter in the day to be there for the boys. After a few years, Susan trained as a Teacher's Aide and worked in that capacity for a few years. Their son Chris has Down's Syndrome and Susan became involved in the early intervention programme in Geraldton for Down's Syndrome. They moved to Atwell when Chris graduated to High School in order to be nearer hospitals for general ongoing appointments and give him a better chance for suitable education in his senior years. He is now 36 years old and lives in a group home in Wilson. Kingsley lives in Byford with his fiancé and wedding preparations are well underway.
Susan worked at the MS Society for over 6 years in the early 2000s and is looking forward to joining in the activities in the Village.
They moved from Atwell to be in easy reach of the boys as well as enjoying the country feel of the Village and are adjusting to a smaller home after being used to a large property. Susan felt it was an omen that her Maiden name was Lake so instantly felt at home here. Susan is interested in art, ceramics, felting, and pottery as well as enjoying all her pot plants. Peter is an enthusiast of model trains and likes reading and playing chess. He is also an avid sports person and has played Soccer, Golf, and some Australian Rules Footy as well as lots of Cricket, a little Hockey, and Basketball which he has even coached during the years that his sons were growing up.
They are looking forward to immersing themselves in the Village society and enjoying the activities offered. Peter is looking forward to retiring in about 18 months' time. They had a mobile home and travelled with it when the boys were younger, they have now bought a caravan and hope to spend time travelling across Australia when it is possible and like the opportunity in the village to lock and leave their property so easily allowing them to travel. They are also looking forward to their sons being able to visit them in their new home.
Peter & Kay Ellis Lot 45
Peter and Kay Ellis have been with us for a few months and have just moved into their permanent home at Lot 45 or 30 Lifestyle Lane. They have certainly had a tough job with moving during this recent hot weather. When I caught up with them, they had taken an early morning trip to the beach and given themselves a well-deserved break.
They arrived in Perth by ship from the UK back in the 1970s with their 1-year-old son, Darren. Peter was originally from South London and Kay from Brighton.
They resided initially in Beckenham for a few years and their daughter was born in 1972. They moved to South Australia in 2007 with their daughter and family and stayed for 14 years. Their daughter now lives in Secret Harbour with her 2 children, a son, and a daughter. Their oldest, Darren lives in Seville Grove with his 2 boys. Peter and Kay catch up with their children and grandchildren quite regularly. Their 4 grandchildren are all between the ages of 19 and 21 years.
Peter and Kay have only been back in Western Australia since last August so are still getting familiarised with the local area. They liked the setup and openness of the Village and also its convenience to the children and grandchildren.
During her working career, Kay worked mainly in retail and was with Myers for a number of years both in WA and SA. Peter has worked in many jobs and in later years was in a supervisory capacity in an electrical contracting company.
They love going to the beach and take many opportunities to go when the weather is right!!
Kay loves reading as well as music and dancing but will be busy for some time arranging things in their new house. Peter is very interested in current affairs and likes to keep up with world events. He likes English sports especially English football and supports Tottenham HotSpurs and Crystal Palace, his local teams plus he also enjoys playing indoor cricket.
They both played competition tennis for Kenwick when they lived in Beckenham and were involved in the Tennis Club and its activities for many years. They supported the children in varied sports when they were growing up.
They have travelled to many parts of the world, and they have fond memories particularly of Bali where they also help a friend with a business. Additionally, they have travelled to many of the Asian countries as well as cruising the Southern seas and the Islands and some European countries. They are looking forward to more travels and returning to Bali.
We welcome them to the village and hope they will enjoy their retirement in our community.
EXPRESSIONS OF INTEREST
Doggy Pageant – We think it's time to celebrate all the wonderful pooches that reside at Champion Lakes Village – It's therefore proposed to host a Doggy Pageant! We are keen to hear from residents who would like to register their pooch in such a village community event and ask that you please register your interest on the form displayed in the Clubhouse on the resident noticeboard.
Darts – A couple of residents are keen to commence regular Darts sessions in the Clubhouse. We have therefore put up a form to register your interest should you wish to participate in a regular session. All skill levels are encouraged to take part. Please see the Clubhouse resident noticeboard and advise your interest and availabilities and village management will co-ordinate the inaugural session in the near future.
NEW RESIDENT COMMITTEE
Congratulations and thanks to the new interim resident committee that took up an appointment at the recent Resident Meeting held at the Village on the 4th February. Village Management looks forward to working with you to liaise and discuss Village matters for the benefit of our community collectively.
Your new interim resident committee consists of:-
Les Connolly – President
John Thomas – Vice President
Dawn Wright -Secretary
Ray Hickey – Treasurer
Robyn Linton- additional member
Rita Chambers- additional member
Sheila Parker- additional member
Louise Langdale-additional member
A special thanks also go to the outgoing committee members for their contributions to the Village over the past period.
UPCOMING EVENTS – SAVE THE DATE!
Think Data- Question and Answer Session
Date: Monday, 21st February 2022
Time: 10am – 11am
Rob from Think Data will be in the Clubhouse Lodge to undertake a courtesy Q&A session with all residents between 10am – 11am Monday 21st February. All residents are encouraged to attend so that any queries regarding the Village internet service/ speeds and recent upgrade infrastructure works can be answered and addressed at this time.
Rob and Village Management look forward to seeing you on the 21st of February
SOCIAL SCOOP
Australia Day BBQ
Scrumptious bacon and egg breaky was enjoyed amongst 50 + residents to celebrate everything Oz on Wednesday 26th January 2022. To all those that assisted put on such a wonderful spread – thank you and well done!!!
Roaring 20's Evening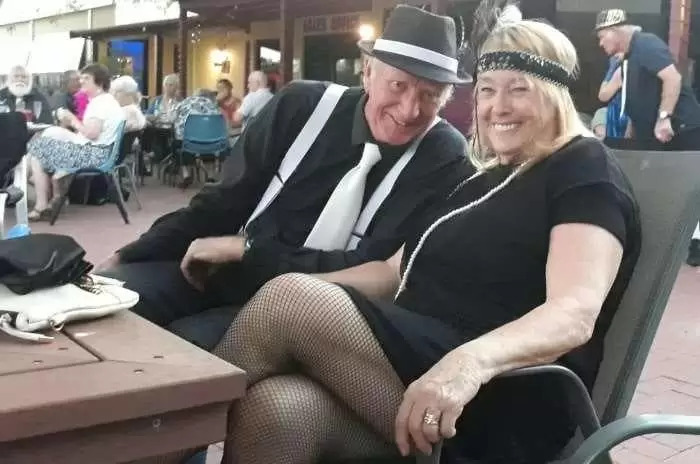 Friday 21st January saw the village roar into the 1920's era with costume and dancing enjoyed by residents till late. Live entertainment was performed by the "Heart Beats" band outside under the stars with a large dance floor created under the night sky.
Well done to Tom Smart of Lot 25 and Linda Palmer of Lot 36 who took out the prizes for best costumes on the night. Special thanks on behalf of all residents to the Resident Committee for putting such a pleasant and enjoyable evening together for the entire community.
COMMUNITY GARDEN
The community garden continues to flourish despite the hot weather and some intermittent burning that has occurred on some of the produce.
Sheila and Chris welcome any support to keep this area at its peak. A spare 30 minutes would be welcomed by all and anyone, particularly those that enjoy the fresh produce provided in the Clubhouse to be consumed.
Check out the state of the sage, eggplant and tomatoes that we are enjoying this season in abundance.
COVID APP ASSISTANCE TO INSTALL
With the recent introduction of the new WA Government ServiceWA App that has been introduced we provide a few quick video's and tips and tricks to help all residents utilise this mobile phone app should they with.
Firstly we note you do need to download 2 new app's onto your phone. These are:-
You will find these in the Apple Store or Google Play Store depending on your specific device.
Without registering and setting up your myGovID particulars (Digital Identity) you can not utilise the ServiceWA App.
ServiceWA app: how to set up your Digital Identity
ServiceWA app: how to set up an account
ServiceWA app: navigating the ServiceWA app and features
It has been reported by a couple of residents that whilst the process initially can be confusing, may residents have successfully completed the process and from a community perspective these residents would be happy to assist any of their fellow village residents in completing the process should you require.
If you would like assistance please speak with Village Management and we will co-ordinate a day and time that best suits both parties to complete this.
VILLAGE MANAGEMENT UPDATE
Management has installed new Emergency Assembly Point signage across the Village, and we provide a snapshot as well as an attached copy of the locations for your ease of reference in the future.
Additionally, we have also updated our evacuation pathways in the event of an emergency from the communal locations of the village inclusive of the gym, pool, lodge, library, and sales office. These to are attached to this month's newsletter for your future reference.
In participation of Covid surging in our WA community and in line with government advise we have implemented a Covid Policy for the Village which we attach to this newsletter.
This Policy is displayed in prominent locations across the village on the 2 village resident notice boards and we ask all residents to please familiarise yourself with the information supplied.
"Where the smiles are genuine and the coffee's always on"
Best Wishes from Keith, Jane, Leah, Fiona & Families.