CHAMPION CHATTER – January 2022 edition
CHAMPION BIRTHDAYS

 
🎉
Birthday wishes for the month of January are extended to:-
Margaret @ Lot 16
David @ Lot 26
Tony @ Lot 37
To our residents celebrating a January birthday we celebrate with you and say HAPPY BIRTHDAY!!
FUNNIES OF THE MONTH
WELCOME TO THE CHAMPION COMMUNITY
This month we welcome new residents Frank & Lorna @ Lot 59 along with Greg & Sharon @ Lot 78 to their forever homes at our Village. Thanks again to Sheila for undertaking the meet and greet to allow us all at the Village to be introduced to these fabulous new residents.
Frank & Lorna – Lot 59
Lorna and Frank and their two gorgeous little Shih-tzu/ Maltese cross dogs called Sunny (the sunshine of their lives) and Fleur (meaning flower in French)  have recently moved into their permanent home at Lot59, 2 Calm Drive.
They originally came from Yorkshire but came to Western  Australia in 1967 with 2 small boys to make better lives and opportunities for them all. They are now proud grandparents of 7 grandchildren, 3 girls and 4 boys most of them live in WA and they are in regular contact with them with one in now in Melbourne. They are all doing well and having happy and fulfilling lives.
Frank had a successful business in the glass and aluminium trades when they came to WA for many years. Later he became interested in working in the MS society and Aged care areas, partly from experience with his own father who suffered from this neurological condition. Frank was efficient at seeing the potential and enabling clients to lead an independent life. He went on to working in school as an Ed Support worker with a young boy in high school for 5 years and helped him to achieve a high level of independence.  He found this to be the most fulfilling part of his working life.
Lorna had several jobs initially then was able to reach her ambition to go to Teachers' college and became a primary school teacher for 35 years, a job which she loved. She has recently been able to work part time in adult health and is happy to have the freedom from full time work.
They are looking forward to a simpler life now they are in the village and will be able to go away with the dogs in their van. They both enjoy travelling, the bush areas and quiet locations.
Lorna especially likes to read and learning in many areas with a special interest in wellness issues.
Frank also likes travelling and loves all types of music. They both also have an interest in live theatre and love seeing the variety of styles available.
Greg and Sharon Lot 78
Greg and Sharon have now settled in their forever home at lot 78, 1 Calm Drive with their Little Bichon Frise called Jack, he is an adorable friendly fella who is enjoying being part of such a large family of dogs in the village.
They both come from WA and have lived in the country at various times, the most recent 12 years have been spent in Kalbarri where they went after retiring. They have now returned to Perth to be nearer family. One of the things Greg misses is the regular fishing and crayfishing in Kalbarri.
This is the second marriage for both of them and they have five children between them, three girls and two boys who are all living in the Perth area. They have nine grandchildren, eight girls and one boy. He is certainly outnumbered when they get together!! Greg and Sharon are certainly fortunate that they are able to see them all frequently.
Sharon had employment doing office work for a freight company for many years. Greg was a mechanical fitter for 9 years in the Air Force then went into the Department of Correctional Services until retirement.
When Greg and Sharon decided to move to the Perth area they went round many of the village complexes and lifestyle villages and found that the open nature and dog friendly atmosphere of our village suited them and they are looking forward to being in the community.
Greg likes gardening and is especially interested in Desert Roses and has been successful in growing a variety of them in the past. He hopes to continue to cultivate them here as he gets settled. He also likes playing darts and he is looking forward to pursuing this here. Sharon is interested in crafts and knitting.
We welcome them to the village and hope they will enjoy their retirement among our community.
SOCIAL SCOOP – NYE Curry Night
A fabulously friendly and festive night was enjoyed by all residents at the recent New Years Eve – Curry evening held on the 31st December. With the balmy weather putting it on for us, an evening under the stars was enjoyed by all. 2021 was celebrated for many different reasons and 2022 was welcomed in with much cheer.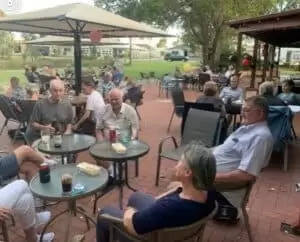 VILLAGE MANAGEMENT UPDATE
Management is so grateful to all residents who help promote our village to the wider community. From participating in TV adverts to opening your homes with welcoming arms or just offering a friendly smile and wave when a potential new resident passes by. Thank you for sharing all your positive advice to help grow our village as we strive to make it the best it can be for all.
Our new heated indoor pool has been getting lots of use which is fantastic, however can all residents please ensure policies and procedures are followed.
Please note: Children are only permitted to swim between the hours of 10:45-11:45am and 3:45-4:45pm. Thank you for your understanding.
We would like to reassure our residents that all Champion Lakes Staff and trades are vaccinated in accordance with Government guidelines. We respectfully request that all residents and guests ensure they are also vaccinated.
Home for sale- 2 Scenery Court, Champion Lakes:
Prime location, opposite communal open space, view from your front living room window below:
Please contact the sales office on 93903909 to view this beautiful home.
COMMUNITY GARDEN
The garden is flourishing with plenty of cucumbers, capsicum, egg plant and rhubarb. There are tomatoes, basil and spring onions in slightly less quantities at the moment and we will be removing the last of the rainbow chard (silverbeet) as soon as it's past its prime and will leave that particular bed empty for the foreseeable future.
With a regular supply of produce being made available in the clubhouse for which donations are received, the garden team will be utilising some funds in the purchase of fertiliser and compost. This will replenish the soil in preparation for planting of the new season crops.
Please be careful when picking produce and to please do not leave unwanted leaves or broken bits of plants in the beds as this can spread disease.
GET THESE DATES IN YOUR CALENDER
ROARING 20's EVENING
Date: Friday 21st January
Roaring 20's themed evening – Residents only. Please see flyer attached for all information for the evening.
LOCAL COMMUNITY – LEMAS BYFORD
RSVP- 19th of Feb 2022
"Where the smiles are genuine and the coffee's always on"
Best Wishes from Keith, Jane, Leah, Fiona & Families.
"Where the smiles are genuine and the coffee's always on"
Best Wishes from Keith, Jane, Leah, Fiona & Families.