CHAMPION CHATTER – March 2022 edition
CHAMPION BIRTHDAYS 🎉
Birthday well wishes for this month are extended to:-
Ron @ Lot 9
John @ Lot 15
John @ Lot 58
Sharon @ Lot 78
To our residents celebrating a March birthday we celebrate with you and say best wishes for a lovely day!!
FUNNIES OF THE MONTH
BE PRO-ACTIVE AND PREPARED RATHER THAN PANICKED
With the WA Government providing free RAT tests it is encouraged that all village residents ensure they have a suitable supply of these at their private residence in preparation for coming weeks. You can order yours here at: https://www.wa.gov.au/government/covid-19-coronavirus/covid-19-coronavirus-wa-free-rat-program
COVID CASE NUMBER INCREASE IN WA
The WA Government and Health Department have provided guidelines as to protocols that will take effect as the high case loads increase. We have provided a simple flow chart for clarification should you be exposed and how the isolation and testing processing will work via the State run system.
WELCOME TO THE CHAMPION COMMUNITY
This month we welcome new residents Jim and Diane @ Lot 10 and eventually Lot 74 along with Ann Spaanderman @ Lot 43 to their forever homes at our Village. Thanks again to Sheila for undertaking the meet and greet to allow us all at the Village to be introduced to these fabulous new residents.
Lot 10/ 74 – Jim & Diane Mitchell
Welcome to Jim & Diane Mitchell to the village. They are currently residing at Lot 10 whilst construction is completed on their forever home at Lot 74, 9 Calm Drive.
They bring with them Roxy a beautiful Rottweiler cross who is very gentle and Angus who is a bit more feisty, maybe one could say a pooch with attitude!!
They are both originally from the UK, Diane from Lincoln and Jim from Bradford. They arrived in Australia in 1966, 3days after they got married so their honeymoon was spent on the Fairstar where they were in separate cabins, 4 guys in one cabin and 4 girls in the other…. not the best arrangement on your honeymoon!!
Upon arrival they purchased a house in Maddington and had 2 boys who are now in their 40s and currently live close by, one in Thornlie and one in Seville Grove. Matt their oldest has 2 boys and Jamie their 2nd has a girl and 2 boys.
They were in Maddington for 17 years before they built a house in the 1980s in the Castle Glen Estate, Thornlie, where they stayed for 5 years before moving to Roleystone and then Bedfordale as they kept enlarging their properties until they had an acre of land in Bedfordale on a peaceful block in a bush area.
The move to the village has been the reverse of their previous purchases with right-sizing being front and centre to them both. They have undertaken numerous caravanning trips in the past and intend on doing further trips in Australia in the future. Jim loves golf and hopes to get back into playing in the future after some time being unable to do so. Di has also played golf but she also loves art and enjoys different media of painting. We look forward to welcoming Di to our craft group to once she is settled. She loves a good laugh and they have been married for 56 years. They say that equates to 2 life sentences and they still get along so they are doing rather well!!
Lot 43 – Ann Spaanderman
Welcome to Ann Spaanderman, who has recently taken up residence with us at Lot 43, 26 Lifestyle Lane. Ann has brought with her Gismo a beautiful Pomeranian with a gorgeous coat in tan, white and grey colours. Another special friend for our growing family of 4 legged residents!!
Ann was born and lived all her life in the Armadale area. She worked in retail on the checkouts at both Woolworths and Coles supermarkets in the local area.
Later she also worked in nursing homes and in the special needs area in group home care. She was married in 1977 and had 3 sons. Now ranging in ages from 40 to 44 years of age.
Interesting fact is Ann finds it remarkably easy to remember her children's locations as the initial of their names and place of residence are the same!!! Brad lives in Bunbury, Troy in Tassie and Jeremy in Jarrahdale.( It is like one of those rhyming games!!)
She has 10 grandchildren ranging in age from 13 years to 14 months. Ann has lived on her own for 26 years so is used to her own company and is never bored.
She loves to potter in the garden and enjoys crafts including long stitch and 3D card making with paper tole. She may be able to share her skills in the craft group once she is settled in. She enjoys and used to breed tropical fish and has brought 2 tanks with these fish to her new home. She had a big aviary with budgerigars in her previous home and has brought just one of her colourful feathered friends with her. She makes heat packs of various sizes and sells them online or on marketplace. She also loves doing jigsaws and nearly always has one on the go.
THE "SCENE" AROUND AT CHAMPION LAKES
We have been fortunate to capture some fabulous activities being undertaken by our residents across the village site in the last month and thought we would share their activities as they were captured.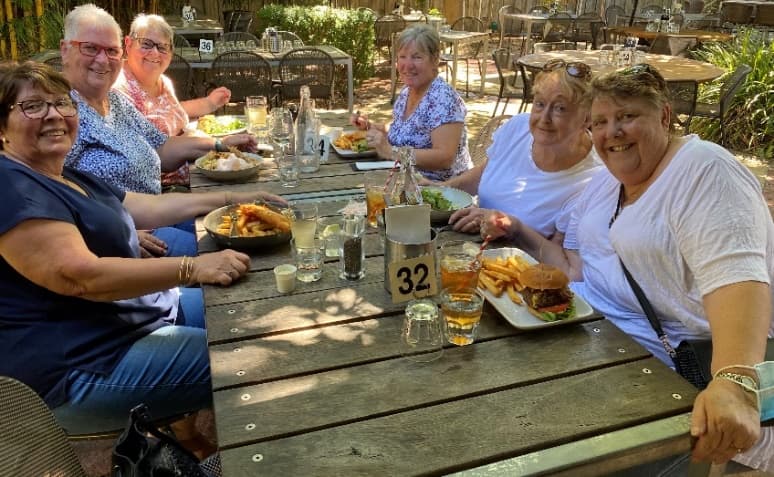 EXPRESSIONS OF INTERESTS UPDATE
Doggy Pageant – A very minimal response was received on this recent Expression of Interest so we will not be pursuing this event on behalf of the village.
Darts – A great response for the suggested weekly Darts session has transpired with all interest received proposing 10am on Tuesday mornings. We look forward to commencing the first Darts session next Tuesday 15th March, in the theatre area of the clubhouse which will be accompanied by the band jamming session to provide the tunes for the weekly event.
VILLAGE MANAGEMENT UPDATE
We are delighted to announce Stage 2C has now officially Sold Out! As we prepare for Stage 3 commencement, we are also pleased to provide all residents as an attachment to this newsletter a copy of the Stage 3 Plans which have been submitted to City of Armadale for approval. (see below)
Village Management has recently updated our Resident register to include all our new residents of late. If any residents would like a hard copy of this list, please pop into the office and pick one up at your convenience.
Lodgement for the approval of hosting water aqua-aerobics classes have been lodged with the City of Armadale back in February, 2022. As the pool needs to receive a special exemption to facilitate this programme on a weekly basis for this class to be held we look forward to City of Armadale and then the Department of Health granting this approval, which is similar to that of what is set up at many villages across Perth.
COMMUNITY GARDEN
The size of the eggplants is certainly a great sight to see and to be enjoyed by all the residents of the Village. As is the contrast of leaves and flowers as the basil and capsicum grow in harmony interwoven amongst each other and looking so very healthy and appetising.
Interesting facts on Eggplants:-
Eggplant has antioxidants like vitamins A and C, which help protect your cells against damage. It's also high in natural plant chemicals called polyphenols, which may help cells do a better job of processing sugar if you have diabetes. Bougainvillaea is in profuse flower welcoming visitors to the Community Garden or so it would seem!! Interesting fact on this plant is that the flowers or the showy paper-like structures are not actually flowers but are a modified leaf called a bract. These three bracts hide the true flowers inside, which are small, trumpet-shaped flowers in whites and yellows.
SAVE THE DATE
Sunday 20th March – Village Breakfast
Time: 9.30am
Fees: $5.00 per person
Saturday 14th May -Village Event
Time: Evening
Fees: $10.00 per person
Thursday 26th May – Frankie Valli and the Four Seasons
Time: Evening
Astor Theatre Bus Trip/ Event $75.00 per ticket (Please note a group booking is being placed on the 11th March, 2022 to secure seats to this event so please let Rhonda know by this date if you are wishing to attend).
GOSNELLS BOWLING CLUB
From Friday 11th March, 2022, Gosnells Bowling Club commences their Series 1 of Corporate Bowls nights. Games commence at 7.15pm on Friday 11th and 18th March for Series 1 and Friday 25th and 1st April for Series 2.
Players required for arrival at 6.30pm.
There is a sausage sizzle available at a cost of $2.50 between 6pm- 6.45pm or more substantial meals are also available from the Club from 6.00pm along with normal bar facilities. Teams of 4 are encouraged to register for either Series asap via Hazel McGinty on 9398 2491 at a cost of $60.00 per team.
"Where the smiles are genuine and the coffee's always on"
Best Wishes from Keith, Jane, Leah, Fiona & Families.